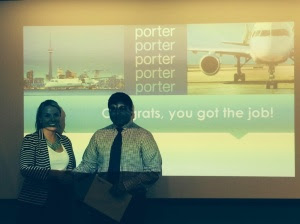 When you wake up before 7 a.m. on a Tuesday morning during summer vacation, you begin to re-think your life and why you're awake so early. But when you're dressed in a suit and rubbing shoulders with Bay Street VIPs you start feeling better about yourself. Yesterday was the 2nd day of Bay Street Boot Camp, here in downtown Toronto presented by the Junior Economic Club of Canada (JrEC) and Porter Airlines provided us with a special challenge.
The challenge consisted of creating your own profile and applying for a common job between 40 other participants. Each group of five was instructed to pick the best amongst themselves and then their representative would go head-to-head against others in a challenge to land the job as a marketing analyst for Porter Airlines. I was proud to be chosen by my peers to represent our group but as my turn approached I began to feel extremely nervous, to the point where I wanted to give up the opportunity. But that's when I realized that I was meant to feel these feelings. If I wasn't nervous and if I felt over confident then I wasn't believing in the scenario. I felt as if the nervousness helped me perform better.
With sweaty palms I approached the desk and began my mock interview in front of everyone. As I began talking and gaining my confidence I felt more at ease with every other question. After finishing, I personally felt that I did alright and felt bad for letting my team down. I didn't perform with as much confidence and panache as I did within my group of five. Little did I know, that I actually had done pretty well. At least well enough to win the mystery grand prize.
I expected a $20 gift card but I was ecstatic to find out that my prize was two round-trip tickets to anywhere Porter Airlines flies. I want to thank our Bay Street Boot Camp mentors for not only accepting us but for giving us life tips that will credit to our future success. I want to thank Porter Airlines for their amazing gift and contribution to the Junior Economic Club of Canada. Lastly, I would like to thank my group for not only nominating me but giving me support when I felt like backing down. This was truly an amazing experience that I'll never forget.
Sincerely,
Raun Damani